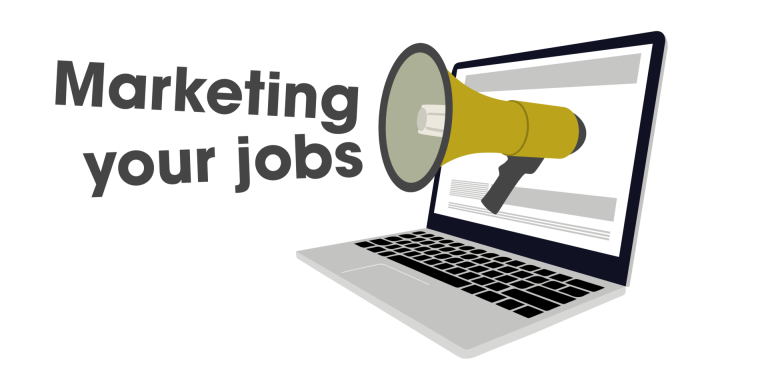 How do I advertise a job on my website?
Marketing your Jobs
Even the most basic website will have some presence on Google: use this to your advantage!
Advertising a job on your website is one of the most effective free job posting options when looking for new staff.
Did you know that 84% of candidates will investigate businesses' websites when looking for a career move? This makes it a valuable resource for attracting job seekers direct.
By following a few guidelines, you can quickly and cost effectively enhance your hiring campaign using your company's own website:
Step one: Create a dedicated careers page
This is essential. Many candidates will potentially be visiting your site looking for vacancies – so make life easy for them!
A careers page is the perfect opportunity to showcase your what your company does, along with your unique culture and values. To help candidate get a feel for your business, include testimonials, photos and even videos.
This also has the advantage that your page won't be blank when you have no vacancies available!
An 'iframe' window that showcases your roles is an elegant way to display adverts that are posted through a third-party.
Step two: Write a detailed, appealing job advert.
A recognisable job title is important when trying to attract candidates. Even when advertising a job on your website, and not on a generic job board, you will still stand a better chance of creating engagement by renaming it something relatively generic for the purposes of your advert. A poorly chosen job title can reduce applicant response by more than 80%.
The job description should be clear and to the point, outlining the key responsibilities, skills, and qualifications. Use bullet points and bolding to highlight the man features. An average jobseeker will spend as little as 14 seconds reading your advert, so it's important to make it as easily digestible as possible.
For best results, you need to think about optimising your job adverts to make sure they're easily discoverable by search engines. Think about some of the relevant keywords that job seekers might use when searching for roles; or even better, spend some time on platforms such as Google Trends to discover the exact phrases that are most commonly searched by applicants.  Properly done, SEO (Search Engine Optimisation) can massively increase the visibility of your job postings in search engine results.
Getting this right is incredibly important to give yourself the best chance of attracting candidates. If your time is limited or you are not a confident wordsmith, delegate this task to your marketing department. Professional job advert writing is also available at very little cost.
Step three: Establish an application process.
Keep the application form simple and user-friendly. A complicated process could deter candidates. Ask only for necessary information like contact details along with a CV and, perhaps, a cover letter. The simpler the application method, the likelier it is that candidates will complete it.
Think about how you will monitor and screen your applicants. Your email inbox could fill up rapidly with eager candidates. If you are expecting a large response, consider investing in your own Applicant Tracking System (ATS). This will help you manage candidates easily, and all in one place.
Step four: Further reach.
When advertising a job on your website, integrating your job postings with social media and professional networking platforms will help your role be seen by more potential applicants. You can further enhance this by including social sharing buttons on your job posting pages so that visitors can also share the opportunity within their own networks.
If you find your role requires a little more reach, you should consider advertising across a few job boards. This can be achieved at low cost via Flat Fee Recruiter.
To find out more about how our services can enhance your recruitment strategy call a member of the team today on 0113 322 7243.
More articles …
Where is the Best Place to Advertise your Jobs?
Where is the best place to advertise a job for free
How do I use free job boards to advertise a job?
How do I use social media to promote a job vacancy?
Download your how-to guide
and advertise jobs for FREE.