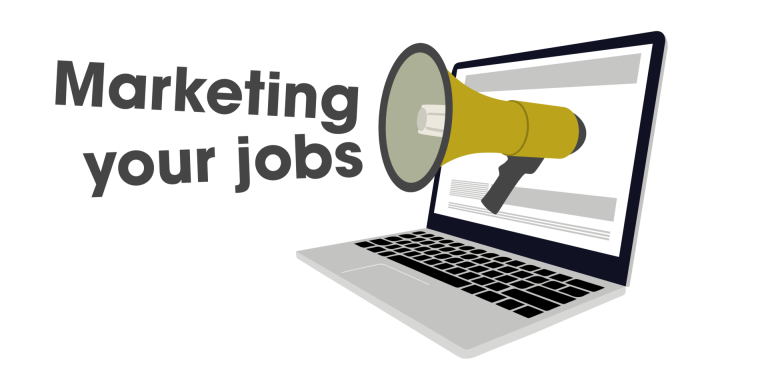 How do I use social media to promote a job vacancy?
Marketing your Jobs
With more than 77% of the UK population being active on social media, this is a valuable resource when planning your recruitment strategy – especially if you are hoping to reach passive candidates.
There are literally billions of active users across different social media platforms globally. This means there is a vast pool of potential candidates with unique skills that could be the perfect fit for your vacancy – even if they are not looking for a job.
For this reason, a social media campaign makes an ideal add-on to any adverts you have posted across online job boards.
By following a few rules, you can use social media to promote a job and enhance your recruitment strategy.
Understand your target audience
It's crucial as part of your entire recruitment process that you are clear on the candidates you're targeting. This is especially important when promoting roles via social media: with 53million users across a range of platforms in the UK alone, your message could easily get lost if you are not appealing to the right people.
The different social platforms cater to a range of demographics.
LinkedIn, for example, is the world's leading business networking platform. This makes it ideal for connecting with experienced professionals and active jobseekers looking for their next role.
On the other hand, sites like Facebook, Twitter, and Instagram have a much broader appeal. This makes them ideal for reaching a more diverse audience, as well as putting your role in front of candidates who might be interested in your role even if they are not actively be looking for work.
Create an appealing advert
In the fast moving world of social media, you have to grab attention quickly. Think about using  eye-catching graphics, infographics, or even video content to stand out in crowded newsfeeds.
Job descriptions should only cover the essential details – role, location, salary, and a very brief run down of responsibilities.
Include a link to an online job advert or your own website for candidates to follow if they wish to find out more.
Use hashtags
Appropriate hashtags will help expand your post's reach and visibility because they help your post appear in front of candidates who are actively browsing those tags. However, it's important that you include a variety of tags and are careful not to use any that are roo general. Otherwise your advert could be lost in the surplus of related content.
Take advantage of your employees' networks
Chances are most of your team have a presence on one or more of the major social media sites.  Encourage them to share vacancies on their personal profiles. This has the added benefit of  lending credibility to your adverts. People are more likely to trust and engage with posts shared by their own circle of connections.
Be targeted
Many social media platforms provide the option of targeting your content to relevant users. This could be based on location, demographics, interests or online behaviour. This is an effective way of making sure your advert is being seen by the right candidates. However, on most social media sites this is usually a paid feature. You can find out more about pay-per-click (PPC) job advertising here.
Engage with your applicants
By it's very nature, social media is perfect for instant engagement with candidates. Make sure to monitor your adverts and be available to respond to any comments, queries, or direct messages as soon as possible. This way, you will quickly build relationships with your potential new employees. Being responsive and engaging is also an excellent way to enhance your company brand.
Social media is included with many Flat Fee Recruiter campaigns – we can even monitor the PPC budget, target relevant demographics and oversee candidate enquiries on your behalf. Call a member of the team on 0113 322 2957 today to find out more.
More articles …
Where is the Best Place to Advertise your Jobs?
Where is the best place to advertise a job for free
How do I use free job boards to advertise a job?
What is Pay Per Click recruitment advertising?
Download your how-to guide
and advertise jobs for FREE.