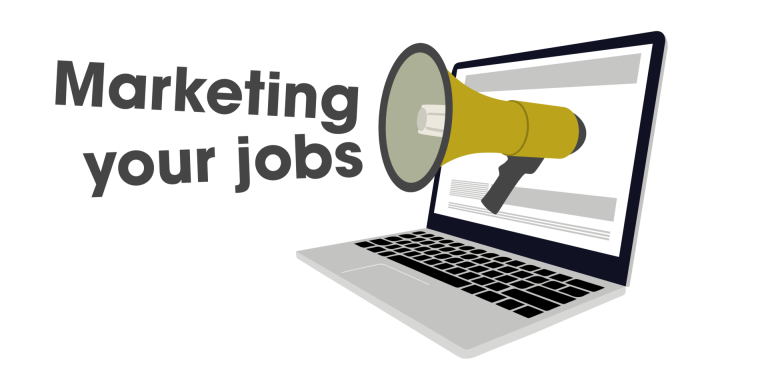 How do I run an internal recruitment campaign?
Marketing your Jobs
Did you know that some of the most successful hires comes from internal referrals?
Internal recruitment has its advantages. You probably have plenty of opportunities to communicate with staff through your company's own channels.
When advertising for a new position, you should always consider current staff. This helps make sure you get the best out of your campaign and make the perfect hire.
Why consider internal candidates?
Current employees will not only be familiar with your business's culture and ethos, they've also had plenty of opportunity to prove themselves. A hard-working employee who requires some extra training could well be more successful than a candidate who is perfect on paper but does not have a proven track record.
Jobseekers increasingly value career development opportunities over other workplace benefits, and this can be a brilliant way to retain top talent while also keeping morale high within your organisation.
Establish an internal recruitment policy

One thing to bear in mind is the importance of creating and maintaining a well-defined internal recruitment policy. By being clear on your business's processes, and eligibility for new positions, you will ensure fairness and avoid any potential misunderstandings or conflict in your workplace.
Write an appealing job advert
Sell you role! Just because the advert is going to directed at current employees, you should still treat it the same as an external one.
Key information to include is job title, department, key responsibilities, necessary skills and qualifications, as well as any benefits that come with the new role.
Use the advert as an opportunity to explain how the role could provide your current employees with new challenges and opportunities for growth: showcase how your company supports career advancement and learning opportunities.
Decide how candidates should apply.
Whether they should apply via email, through a job portal, or by contacting you or your HR department directly, make sure you provide clear instructions. If there is a deadline for applications, make sure it's prominently displayed. If you expect a strong response, it could be worth investing in an Applicant Tracking System (ATS) platform, which is an inexpensive way to track and manage candidates.
Make the most of your internal channels of communication
You might be surprised at the number of avenues you have to promote your job internally. This could be your company's intranet, email newsletters, or even simply an office notice board.
Supplement your campaign.
Even when looking to fill roles internally, it's crucial not to overlook external recruitment entirely. For the best chance of filling a role, a combination of internal and external advertising will often achieve the best results.
More articles …
Where is the Best Place to Advertise your Jobs?
Where is the best place to advertise a job for free? A how-to guide.
Where is the best place to advertise a job for free
How do I use free job boards to advertise a job?
Download your how-to guide
and advertise jobs for FREE.