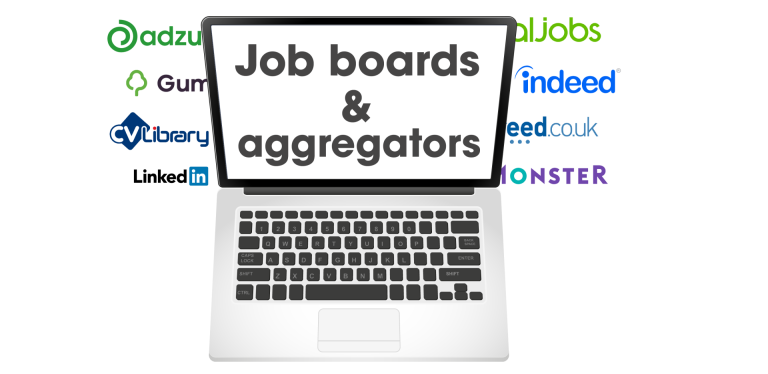 What is a job board aggregator?
Job Boards Explained
Flat Fee Recruiter's success comes from our large distribution of job boards with different specialisms, affiliates & aggregators and marketing strategies to attract a large and varied scope of the best applicants.: "What is a job board affiliate or aggregator and how are they relevant to the campaign success?"
A question we get asked a lot is what does the term job board aggregator mean and how are they relevant to the advertising success?
What is an Aggregator site?
As the name suggests, an "aggregator site" will aggregate data and jobs from a number of job websites and display them on one single website.  These aggregators may also be known as career/job search engines or job spiders.
You may be familiar with Simplyhired.com, indeed.com or 1job.co.uk (specifically for the UK)?  These job aggregator sites will trawl the jobs on the internet (putting "spiders" out to the web to find the jobs).  The aggregator site will then copy the job on to their own website, display it and provide a link back to the original source for the job seeker to apply.  In some instances like Indeed.com, they are starting to behave more like a job board, so the distinction between a jobs aggregator and a job board are getting increasingly blurred.  Indeed.com will allow to you advertise for free, but companies who use their pay per click model will get more visibility on the search results and thus generate more candidates.
In essence, jobs aggregators widen the search for job seekers allowing them to search across multiple job boards and career sites with a single search from either the aggregator site or a search engine like Google. The job seeker does not need to register or sign up with an aggregator site to search for jobs either.
What is an Affiliate?
An affiliate job site is a sub-job board so to speak. It is often a smaller, more specific job board linked to the larger, parent site. These sub-sites tend to be specific to the industry, job type or region.
These affiliate job boards are owned and managed by the parent job board and give you greater and more targeted coverage for your job advert.  They ensure that you are not only targeting a generalist job seeker market (on the parent site) but a niche job seeker market too.
For example; an Engineering role in Bristol and a Finance role in Birmingham may be advertised on the same generalist, parent job board, but they would also be posted to different affiliate sites too. These sites could include a Bristol or Birmingham job board and an Engineering or Finance job board.
For the employer, it gives you an additional channel to distribute your vacancies to.  Many of the aggregator sites have very high results with their Search Engine Optimisation (SEO) because they pay tonnes for PPC advertising, and even the job boards themselves pay the aggregators to drive traffic to their websites.  Meaning; when you type "XYZ Job" in Google et al, then the chances are that many of the top results will be jobs that are displayed on aggregator sites.  This makes job board aggregators attractive and will further ensure that your job advert is seen by your target audience.
One thing to bear in mind is that, because these "spiders" are automated and the aggregators do not work directly for the employer, it means that you cannot pick and choose where your advert will be re-published and could also mean that the jobs being found are no longer available.
Ensuring that old jobs are removed from the internet is something that Flat Fee Recruiter works hard to maintain. By working with our clients and understanding when a vacancy has been filled. Not only does this help to ensure that as an employer you don't get unwanted and late applications, but it also helps protect your employer brand and gives a positive experience to the applicant.  From an applicant's perspective, imagine finding your dream job, only to discover that it expired weeks ago? you have now just wasted job hunting time and this may result in negative feelings about the company who posted the job.
More questions…
Where is the best place to advertise your jobs?
How can I improve the candidate experience?
When and what do I need to say throughout the recruitment process?
Why aren't my job adverts pulling in talent?
Job Board Advertising
Our comprehensive selection of job boards allows for exceptional candidate reach
The fastest way to get your vacancy seen by the most candidates is to advertise on multiple job boards. Our stats show that on average, by advertising a job on multiple boards you can expect to increase response by up to 63%.
However, at between £150 and £600 per site, it can quickly become prohibitively expensive to advertise a role on several job boards directly.
We are partners with all the major job boards and many of the leading niche boards, allowing you to advertise across multiple sites for a cost effective fixed fee.
Our off-the-shelf packages have been selected based on a decade of experience in the recruitment marketing business. Or, if you'd prefer, we can put together a bespoke package perfectly suited to your vacancy.