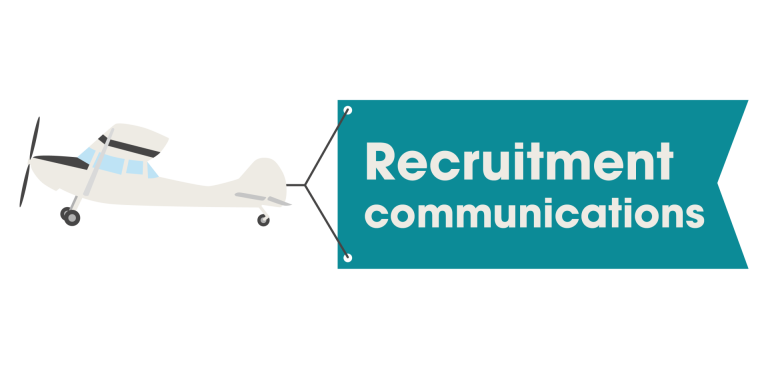 When and what do I need to say throughout the recruitment process?
Recruitment Advice
For many organisations dealing with recruitment calls and emails can feel like a constant headache. Maybe you get asked questions such as:  Have you got my CV? What do you think? Have I got an interview? Why haven't I got an interview?
Dealing with questions like this all day may feel like a drain on your recruitment resource. However, they are valid questions and deserve a response. Communicating with all your applicants is an integral part of your recruitment process for a whole host of reasons and will maintain your employer brand integrity.
Consider the impact on your time, resource and brand if you were in control of your recruitment communications, and you turned the reactive recruitment queries into proactive positive communication opportunities?
Before you get stuck in though, spare a thought for getting your recruitment process nailed first.  Getting a structure, routines and processes for your recruitment strategy aligned in your business will help you to determine when and how to communicate with applicants.
Great!  So, now that we have a process, time frames and the key decision makers in the process are brought in, we can start to manage our applicant expectations and chalk up when and what we are going to communicate with them. Unfortunately, it is not a one size fits all, as your workflow will be unique to your business. However, to get you started we have listed below some of the most common communication emails, with an acceptable time frame according to our ongoing candidate behaviour survey.
Upon receipt of application:  Thanks for your application
Not only is this email or letter just common courtesy and great to manage the applicant expectations but it is the first element of direct communication you have with the applicant to make sure you use it to your advantage. The applicant now has a direct route to dialogue with you, so provide an email address or contact details you want the applicant to use! You can include lots of good stuff with this email too: The timescales and your recruitment process, websites where the applicant can review more about your organisation, display your company culture, where they can engage on social media etc.
NB:  One email that is very common, but we don't like is the "thanks for your application; if you don't hear within 6 weeks consider yourself unsuccessful".  Does it highlight that you are too busy as an organisation to deal with its employees or is your company just lazy at communicating? Best not said at all!
Within 2 – 4 weeks of applying:  CV shortlisted for (Management) review
This is a really positive template that will go a long way to keeping the applicant feeling good about your company and about themselves.  It also gives you the chance to keep in touch with the candidates and keep them warm (similar to the reviewing your CV template below).  Let them know when they could next expect to hear back from you though.
2/3 weeks or more since last communication:  We are reviewing your CV
This is a very useful template to have in place, especially if your organisation is slow to make decisions.  In some instances, you may want to send a variation of this out a couple of times throughout your recruitment campaign. It can keep the applicant interested and give the opportunity for the applicant to contact you if they are no longer in the market, which, in turn, will save you time too.
At end of campaign (max 6 weeks from applying):  Your application is unsuccessful
One of the easiest, yet one of the most frequently overlooked templates to integrate.  This email or letter gives you a great opportunity to ensure the applicant feels positive about your business, even though they have been rejected.  Depending on how you handle it, it can turn a negative situation into a positive; it can help retain consumer brand loyalty and could even generate a referral for you too!
Within 4 -6 weeks of applying:  You have been selected for Interview
This communication can be done via phone, email text or letter.  You can even use an online system (like the FFR online ATS) and give the candidate log in details to an online diary so that they can choose the best interview times to suit them without all the two-ing and froing.
Within 24 hours of arranging interview: Interview details and confirmation
This template is vitally important to ensure that the candidate has the right address, the right times, company information and understands what they need to bring with them (i.e. the right to work in UK documentation). You can also use this template to confirm the kind of interview, timescales to expect, what to expect or any pre-work you would like them to do.
Within 1 week of interview:  Thanks for attending interview but we won't be pursuing your application
This is usually better handled on the telephone, but in some cases where you might have high volume responses, assessment centres or telephone interviews, you may want to send an email or letter to quickly let someone know they are no longer being considered. At this point, you may also want to give the opportunity for the applicant to request feedback (make sure you keep those interview notes) and advise whether you will be keeping their details for consideration of other vacancies in your business. Done right it can really separate you from your competitors and retain a positive brand image.
Managing your applicant expectations effectively and doing what you say you are going to do is vital to make your communications strategy a success.  There are many more touch points in the recruitment process, how and when you choose to use these and more will be dependent on your unique business processes and culture.
Finally, don't forget that all our customers get access to standard communication templates in the Flat Fee Applicant Tracking System (FFATS) which you can adapt to suit – they are really easy to edit and you can send emails to all your applicants with just one click.
More articles …
How do you tell unsuccessful applicants they didn't get the job?
How can I improve the candidate experience?
How do Applicant Tracking Systems (ATS) make screening CV's easier?
Recruitment Housekeeping
Flat Fee Recruiter can provide recruitment communications support with every vacancy.