Creative Recruitment Campaigns
Social & Mobile Recruiting
If you're not finding the right people to fill your roles, you could think about taking an alternative approach to your recruitment. Think creative, think big! Some of the most prolific organisations, and some not so well known companies, approach advertising their roles in a unique way. Have a look at our top 5 creative recruitment campaigns and see if you're inspired:
1. Volkswagen: Mechanic
This is a fantastic recruitment campaign for their hands-on customers, hidden underneath their car bonnets were adverts for Mechanics. This is a natural place to advertise for a Mechanic position and they could reach their ideal audience – people with hands-on, practical experience and familiarity with working their way around cars. It is so simple, so cost effective yet so relevant and direct.
Similar to the Volkswagen, Flickr also hid their recruitment advert, but this time it was hidden in their website code. This way only people savvy enough to be pottering around in there will see the job and these are the perfect candidates that are already showing interest in the company and proving their programming skills. Again, low cost, clever and direct.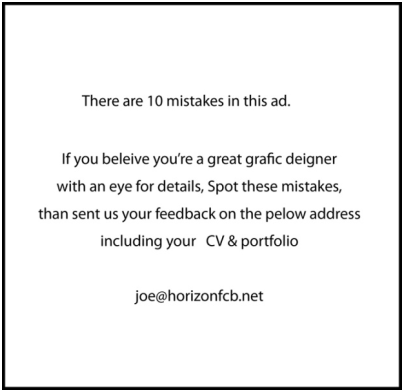 Well, isn't this a unique way of weeding out those without an eye for detail and excellent grammar? It's simple and a great way to not only advertise a role, but to cut out a section of the recruitment process by introducing a proofreading test at the outset. Two birds, one stone.
We love this! Humour, the way to everyone's heart. This campaign by Burger King is so quirky and eye-catching and demonstrates the culture of their company. It acknowledges and mocks their competitors whilst being double-edged in so far as what they're looking for.
What better way to advertise for Bus Drivers than on the side of a bus. What's more poignant about the above is the content. Quirky perks, evenings and weekends off, don't take your work home with you (that'd be silly, and naughty) and getting paid for ferrying kids around (which, as the ad points out, parents do for free). There's no better way to appeal to candidates than making them aware of the benefits of the job/company. This short and sweet advert does that in a Twitter-esque character restriction – though a bus could probably fit more than 140 characters on it. here are many ways to spruce up your recruitment and you don't have to go as far out as the above. But it is worth thinking about that there are other, more direct, ways of reaching talent in addition to your usual recruitment advert. You could easily make an interesting and creative graphic and post it across your social media or become creative with the text within your job board advert.  It can also be cheaper to be creative, it can be expensive depending on your elaborateness, but hiding text in your website coding doesn't cost anything and it attracts exactly the kind of people you want tinkering about in the back. At flat fee recruiter we can help you become more creative with your advertising campaigns and love working with our customers to create unique and compelling online job adverts.  Please get in touch to talk about sprucing up your next campaign. If you liked this blog you may also like these social and mobile articles:
More Articles ...
Mental Health Awareness Week
Take our Job Seeker Survey
How to Attract Candidates as you Fight for Talent Against your Competitors
Protect your Employer Brand